The battery pack manufacturer stated that the individual cells would be short-circuit proof. The question was, does the same hold for the entire pack? The only way to find out is to: short it. And that didn't go too well.
Acutally the picture has been taken after the flames died…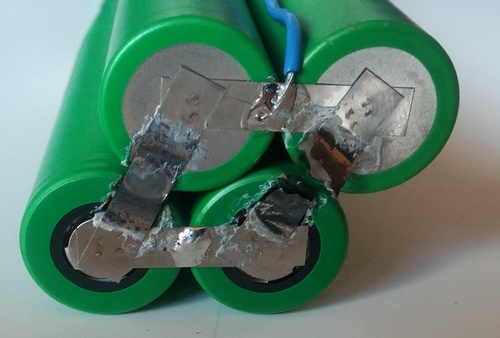 The cells appeared to stay calm, but the cell connector straps got so hot that they melted. The bluish stuff is residue from the adhesive stickers that the manufacturer applied for isolation. These literally caught fire.
This was still an important test, because in order to ship the packs to my customers, they need to be safe. The criteria are defined by "UN Transport Test UN38.3". Among others, it defines acceptable reaction to a forced pack short circuit. Well, this does not include fire…
I hoped for a different outcome of this test, but to be honest, I had quite expected what happened. Interestingly, a pair of cells did actually go open during the test, preventing further current flow. The manufacturer appeared to be right when stating that the cells would be short-circuit proof.
The decision is clear: the pack needs a BMS, a Battery Management System. More to come in the next post…