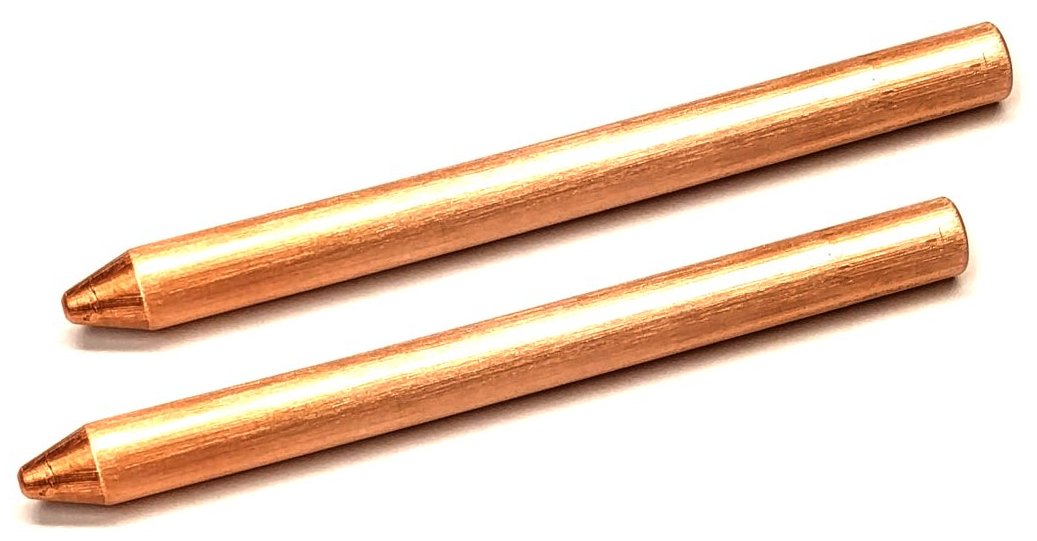 kWeld – electrode set
2017-07-15
To U.K. customers: visit our local reseller here
To customers from the U.S., Canada or Mexico: visit our North America reseller here
To Australian customers: visit our local reseller here
---
The assembly and operating manuals are available on this website for download (https://www.keenlab.de/wp-content/uploads/2018/07/kWeld-assembly-manual-r5.0.pdf –  https://www.keenlab.de/wp-content/uploads/2018/07/kWeld-operation-manual-r3.0.pdf). Please make sure to study them carefully in order to ensure safe and reliable operation.

---
This is the brain of the kWeld battery spot welder. You purchase a professionally reflow soldered, tested and programmed electronic module.
This article is already included in the full kWeld kit and sold here separately to allow purchasing only specific components of the kit. You decide which parts of the complete system you want to purchase and which parts you want to source yourself locally.
---
Hardware features (new features are highlighted in bold):
Input voltage for welding: 4V – 30V, enabling the use of ultracapacitors
Extremely rugged MOSFET-based power switch and mechanical current bus design
Fused overvoltage protection of internal power supply
Maximum switch current: 2000A
Power switch internal resistance: 120µOhm
Pulse duration hardware watchdog: 250ms
Undervoltage lockout for power switch transistors
Input voltage, output voltage, switch current, and logic supply voltage measurement
Logic supplied directly from battery – no need for a separate auxiliary power supply
Screw terminal for external trigger switch
Logic supply holdup capacitor during pulse firing
user interface via an LCD, a dial/encoder, and a beeper
---
Software features(new features are highlighted in bold):
Central weld control algorithm uses a Joule metering approach instead of a simple timer, eliminating the need for two-pulse firing and providing more consistent welds – the amount of energy that is deposited into the weld spot is always kept constant
Advanced arcing protection via undercurrent cutoff (800A)
Ability to detect a failed weld, and acoustic feedback to the user
Calibration procedure to cancel out electrode lead losses
Manual mode, triggered from external switch
Automatic mode, accompanied with a warning sound and triggered with an adjustable delay, once the system detects that both electrodes are in steady contact with the weld material
Audible feedback of weld process completion
Numeric feedback from an executed weld, assisting the user to achieve best results: pulse count, deposited energy amount, required pulse time for this energy, measured current flow, measured ohmic resistance of weld spot
Simple and intiuitive user interface – just adjust the desired weld energy up to 500 Joules with the dial knob; experience fine control through the use of an encoder
Configuration menus accessible via dial's push button
Overcurrent monitoring aborts pulse when triggered, protecting the power switch
Battery monitoring with adjustable warning voltage
Fuse fitness monitoring
Firmware update interface
---
Please also check out
https://endless-sphere.com/forums/viewtopic.php?f=14&t=89039
http://www.eevblog.com/forum/projects/guesses-on-what-i-am-attempting-here
as well as these videos discussing the evolution of this system:
---
WARNING:
You are dealing with very high energy levels when using this system, which may result in personal injury or fire when handled improperly. Take appropriate safety measures and use this system with caution. Never leave it unattended while being powered.
This product contains small parts, keep out of reach of children!
This system produces significant magnet fields, do not use it when you have a cardiac pacemaker!
---
Disclaimer:
This product is provided as is without any guarantees or warranty, except where obliged by national law. In association with the product, www.keenlab.de makes no warranties of any kind, either express or implied, including but not limited to warranties of merchantability, fitness for a particular purpose, of title, or of noninfringement of third party rights. Use of the product by a user is at the user's risk.
In no event shall www.keenlab.de be liable for any direct, indirect, punitive, incidental, special, or consequential damages whatsoever arising out of or connected with the use or misuse of any product purchased herein. You agree and acknowledge that any product purchased should be used at your own risk and you should assess the risks before purchasing any product or using any product. You agree that in the event that www.keenlab.de is deemed liable for any harm caused, the amount which it shall be liable to you shall be limited to the cost of the product.
NO REPRESENTATIONS OR WARRANTIES, EITHER EXPRESS OR IMPLIED, OF MERCHANTABILITY, FITNESS FOR A SPECIFIC PURPOSE, THE PRODUCTS TO WHICH THE INFORMATION MENTIONS MAY BE USED WITHOUT INFRINGING THE INTELLECTUAL PROPERTY RIGHTS OF OTHERS, OR OF ANY OTHER NATURE ARE MADE WITH RESPECT TO INFORMATION OR THE PRODUCT TO WHICH INFORMATION MENTIONS. IN NO CASE SHALL THE INFORMATION BE CONSIDERED A PART OF OUR TERMS AND CONDITIONS OF SALE.
| | |
| --- | --- |
| Weight | 0,2 kg |
| Dimensions | 20 × 20 × 10 cm |
| assembly service | no assembly service, with assembly service |